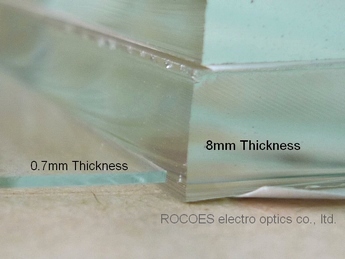 Thin glass
Also known as: Sheet Glass
Functions: Glass with better optical and flatness
Application: Instrument Window, Coating Substrate
Information and Notes
1. Optical Glass will have a slightly higher penetration rate than normal glass, and it will be controlled by strict standards in terms of surface quality, impurities or bubbles.
2. Special shapes or thicknesses can be cut or machined according to customer requirements.
3. The transmittance curves are measurements at 0°of incidence angle. The part that does not penetrate is absorbed by the material of the glass itself.
4. Need higher penetration? Please refer to anti-reflection processing.
5. Need to increase the impact resistance? Please refer to Tempered glass.
6. The website specifications are for reference only, and shipments are subject to the specifications confirmed by both parties.
7. For an introduction to the Soda-Lime ingredients and production process, please refer to the AGC Flat Glass Europe website Float glass & technology
8. 0211, EAGLE XG is a registered trademark of Corning Incorporated.
9. The registered trademark of D263T is owned by SCHOTT AG.